Monetize any traffic and get high CPM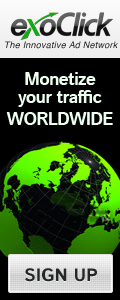 also adult and movie traffic can be used.
EARN UP TO $1 PER CLICK
Online Webmaster Tools

I have prepared some useful tools for you and your website. You can use these online tools to optimize your website and findout some usefull informations about your website ranking, keyword popularity and more.
META TAG GENERATOR AND KEYWORD SUGGESTION TOOL this tool helps you to findout what keywords are contained within your website and it suggest them and build meta tags for you.
.HTACCESS GENERATOR, BUILDER this script helps you to build .htacess file which can make your work much easier.
LINK VALIDATION TOOL This online script helps you findout if there are some dead links on your website.
LINK POPULARITY, WEBSITE RANKING TOOL This is greate way how to see which major search engines alerady listed your site and how many links is leading back to your website.
GOOGLE RESULT POSITION CHECK This online script will help you to find out keywords under which is your website found in top 100 Google links.
YAHOO RESULT POSITION CHECK Yahoo position check is the same tool like GOOGLE POSITION CHECK. SO search which keywords (terms) are listed in top 100 Yahoo links.
IMPORTANT SEARCH ENGINE RESULT POSITION CHECK This SE result position (SERP) check tool is similar tool like GOOGLE and YAHOO RESULT POSITION CHECK. That tool show you what possition is your site listed under your keywords in search engines: MSN, Google, Yahoo and AltaVista search engine.





SW Developers make money with each install of your FREE Software.


Last 10 Reviews
You can help other webmaster with particular sponsors if you write review on some site we have here.